Mail Order Brides or Sugar Babies – What is The Right Choice For You?
What is the difference between mail order bride websites and sugar daddy dating? This is a question that we have heard from a lot of men lately.
Superficially, mail order bride sites and sugar daddy dating sites seem to be very similar, but there are some key differences.
Both have profiles of lots of sexy women and both are places where older men can and often do meet start relationships with younger women, but the similarities end right there.
At their heart, international dating sites and sugar daddy dating sites are very different sites, because the ultimate goals of the users on the two types of websites are very different.
For many years companies in the international dating market were extremely sensitive about the charge that they were pimps or human traffickers because this was a common charge tossed at in the early days of the international dating boom in the 1990s.
Angry feminist academics often tossed this charge at these companies without ever actually interviewing any of the participants or doing more than the most general research.
And many reporters and editors at news organizations bought their claims hook, line, and sinker.
In recent years academic research about mail order brides and international dating has been extremely positive, but the charge that mail-order brides are exploited victims of human trafficking is regularly repeated in news stories.
The laziness and bias of the mainstream media about international dating are amazing because there is no doubt that the marriages formed off of mail-order bride websites are generally more successful than other marriages.
International dating is not about prostitution. It is about romance. The critics get focused on the terms "mail order" and ignore the term "bride," but the women on mail bride sites dream of a kind, caring, husband, raising sweet kids, and having a beautiful marriage.
Mail order brides are extremely romantic and the critics are finally beginning to realize that, but there are guys that are not interested in romance and another type of international dating site has developed to service – and I do mean "service," those guys – sugar daddy dating sites.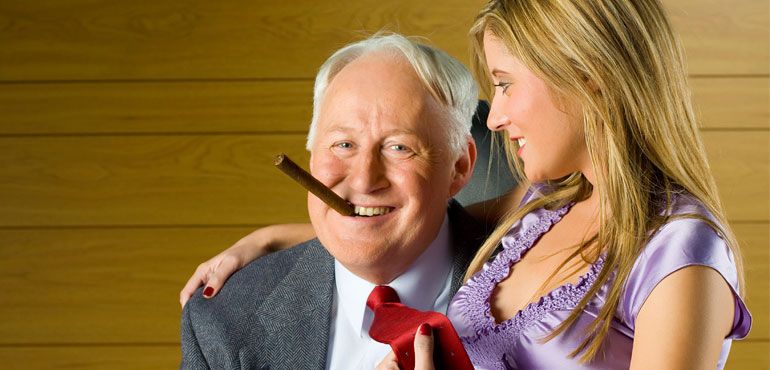 The Rise of Sugar Daddy Dating
Sugar daddy dating sites developed from several types of dating, meeting, or relationship sites.
In the earliest days of the internet in the 1990s, high-end escort services were one of the first businesses to move online.
A few years later less sophisticated escorts and prostitutes used a variety of forums like Craigslist and Backpage to meet customers.
All of this was going on while other types of online dating were developing. From the early general dating sites, there was a gradual development towards all sorts of niche dating sites based on race, religion, age, and all sorts of interests.
But the final piece of the sugar daddy puzzle was the development of hook up culture which destigmatized one night stands.
Men always like casual sex; that is an absolute historical fact apparent from ancient Greek and Chinese pornography to the latest Google search.
Women like casual sex too, but they don't like the problems around getting pregnant from a one-night stand.
And AIDS and other venereal diseases scared everyone in the 1980s and 1990s, but gradually women's empowerment and a lot more honesty about sex began to break down women's emotional and social barriers to casual sex.
Internet marketers picked up on the change quicker than anyone with a slew of hookup sites developing during the 2000s. Many of these sites were flat out scams – most notably Ashly Madison – were total scams.
When Ashley Madison exploded because of a hack in 2015 it was revealed that basically there were 40 million men on the site, but only a tiny handful of women actually used the site.
Ashley Madison was essentially a frat boy fantasy site based on the dubious notion that there were millions of desperate housewives who were not able to get sex without turning to the internet for anonymous hookups. That might be a male fantasy, but the numbers proved that it was not a female fantasy.
But there was another site with almost as fantastic of a concept that did manage to attract tens of thousands of women – sugar daddy dating sites.
The Sugar Daddy Equation
Sugar daddy dating sites have a very simple concept. Upper middle class or wealthy men provide financial support for women in exchange for companionship and normally sex.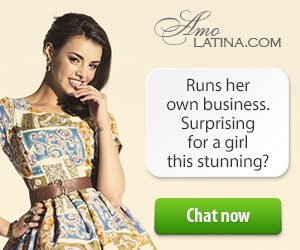 To some extent, they are built on the Pretty Woman fantasy. That commercial or almost commercial sex can be fun and possibly grow into something deeper.
Unlike the Ashley Madison model of desperate women, this fantasy is far more appealing to both men and women. The women call themselves "sugar babies" and the men are their "sugar daddies."
A man has to foot the bill for a woman who agrees that she might just hook up with him if he is generous and…. Well, whatever else she values, because the women are not explicitly agreeing to have sex.
The girls are simply agreeing to be agreeable if the man is somehow appealing.
In this video Brandon Wade, one of the most successful of entrepreneurs of sugar daddy dating explains how his own desperation led to him developing the business model:
As the video makes it clear sugar daddy dating is not a "one size fits all" sort of business. Just as in every other type of dating relationships it all depends on the interaction between the man and woman.
Undoubtedly, fit older guys who can manage a pretty good George Clooney impression are going to get laid a lot on sugar daddy dating sites, but so are kind older men who are funny and easy-going. 
And a quick scan of a sugar daddy site like Seeking Arrangement, makes it clear that a lot of the women on these sites are looking for wise older men to help them make sense of the world – assuming he has some money.
Finances are just below the surface of every date on a sugar daddy site. Yes, a man who is physically repugnant or incredibly arrogant might still not get laid, but if he is generous enough he just might.
The men and the women that use sugar daddy dating sites go into the relationship with a clear understanding. It is not quite prostitution, because the man is paying for a date.
If the date – usually dinner and drinks – go well sex usually follows, but there is more flexibility in the equation than simply money for sex. Probably the best explanation would be that these sites are sort of a cross between high-end escort services and Tinder.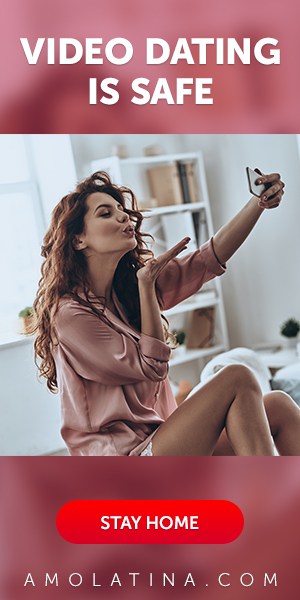 So, sugar daddy dating sites are essentially pick up sites. They are for short-term relationships and if that is all you are looking for they may be right for you.
It appears that these sites are a safer option for the girls and these sites certainly draw a much broader cross-section of women than a normal hookup site.
There are numerous stories about college girls paying tuition with "gifts" from their sugar daddies and I bet few of these women think of themselves as prostitutes.
In fact, I suspect for many of the girls it is a much better deal to be with an older guy who knows he has to shower her with gifts and give her attention to maintain a relationship than with a younger guy who is not as attentive or as rich.
Is Sugar Daddy Dating Legal?
Although some people would like to claim otherwise, there's absolutely nothing illegal about dating a sugar daddy or being a sugar baby.
In fact, these types of relationships have been common for centuries now, but it's only the introduction of the Internet which has brought it into the limelight.
In a sugar daddy relationship, the sugar baby is often simply cared for by the man, with no type of intimacy involved.
In fact, there's absolutely nothing illegal about giving any person a gift in return for companionship, and what happens between two consenting adults of legal age has nothing to do with the sites themselves.
The same is true of when gifts are exchanged between couples in real life, but nobody takes a dim view of that – especially the person receiving the gift.
Most sugar babies come from middle-class backgrounds, including bored housewives, single moms, or a woman who just needs to make ends meet at the end of each month.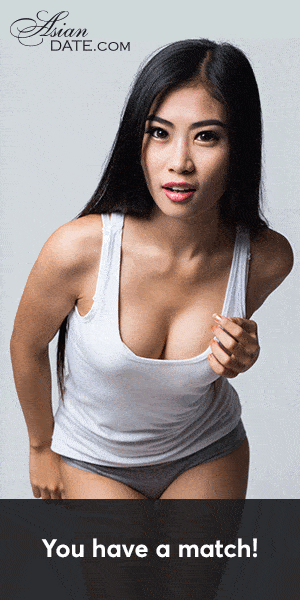 Nobody has ever forced a woman to join any of the sugar daddy sites, or to agree to any financial arrangement with a man.
This is an entirely voluntary process for them, and one they can back out of whenever they wish, including during their first date.
This is in direct contrast to the view that women who have sugar daddies are basically private escorts, but that is simply not the truth.
No sugar daddy dating site will ever guarantee, or even discuss, what type of sexual relationship might take place between the sugar daddy and the sugar baby.
Most men using these sites will date several women before they find one who is a perfect fit for their needs and lifestyle.
The main reasons why sugar daddy sites continue to remain legal are because they're not escort services.
In fact, the majority of sugar babies make it very clear they absolutely will not have sex with their sugar daddy on the first date, or possibly for several dates afterward.
The best sugar websites, such as SeekingArrangement.com, also do everything in their power to ensure that prostitutes are proactively removed from their database.
They use software to scan the profiles on escort service websites to identify women who are looking for a sex-for-cash relationship. This isn't the type of female members they want, so they're then permanently banned from using the site.
Some people would argue that any website that allows a man to create a financially-based relationship with a woman is de facto prostitution, but then any stay-at-home mom could be guilty of being a prostitute too.
Does that sound a bit harsh? Well, there are plenty of women in deeply unhappy marriages where they subconsciously trade sex for the security that a certain level of financial income provides for both themselves and their children.
Engaging in solicitation or prostitution is completely illegal, but using a sugar daddy website is not.
Asking for cash in exchange for sex is illegal, but forming, what are usually long-term, relationships with wealthy men are not.
It's really that simple, so most of the noise you hear about sugar dating is from social justice warriors with nothing better to do with their time.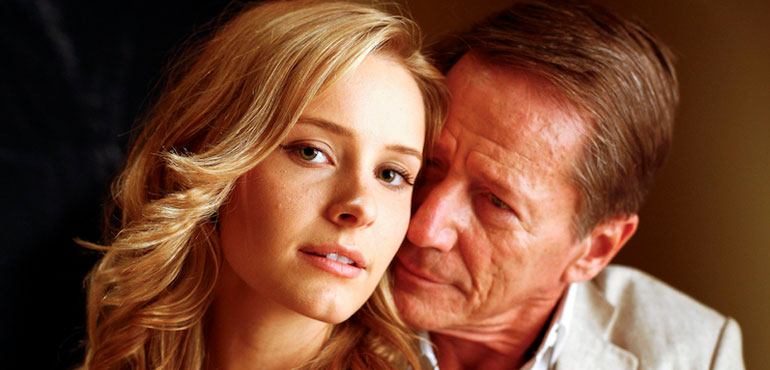 The Sugar Daddy Process
Online dating was created to simplify the process of finding your perfect partner, for people of all ages and from all walks of life.
What the majority of online dating websites have actually managed to do is create an environment for compulsive liars to peddle their wares.
Any man reading this will no doubt have had an online dating experience (more like an ambush) where the woman lied about several aspects of her life, including her age, what she currently looks like, her personality, lifestyle, and income.
The majority of dating websites put women in a similarly precarious situation. They're quite often lied to by men who claim to be wealthy and independent, but turn out to be in their 40s, and still living in their mom's basement.
Traditional online dating tends to be a gigantic waste of time for everyone involved – the real success stories are few and far between.
The Sugar Daddy dating process is far more straightforward though, delivering exactly what both parties need from the relationship. Here's how it works:
A wealthy man joins a sugar daddy dating site, creating a profile that states exactly what type of woman he's looking for
Attractive women join the same site looking for wealthy men, creating a profile stating the type of financial arrangement they want from their ideal sugar daddy
The man finds the profile of an attractive woman and then messages her to see if they're personally and financially compatible
If the woman agrees to the suggested financial arrangement they take it from there, but she can counter any offer the man makes her
They go on a date, but minus all the surprises and/or disappointments you normally have to deal with
If the first date is successful they can then decide what form their relationship takes from there, if any. If the date doesn't go as planned both parties walk away, but the woman gets paid either way. Both parties can choose to be friends if there's no hope of a relationship, or agreement, forming.
This is pretty much the most honest form of dating in existence because the woman is clearly stating what she expects financially, and the man can be equally honest about his requirements.
So, instead of spending weeks or months trying to figure out whether or not your relationship is worthwhile, you can cut to the chase and make your decision after the first date.
Some people might think that's killing romance, but how many utterly romantic relationships have you seen last once the couple runs into financial problems? And that's exactly why sugar daddy relationships are so popular and work so well.
In terms of the "arrangement" that consenting adults come to on these types of websites, they can be either where the woman is paid a monthly allowance by the man, regardless of whether he sees her on a regular basis. If not he still agrees to take care of her financial needs for the duration of their time together.
Younger sugar daddies do tend to look for "freelance girlfriends" on these sites, where the woman is asked to attend a wedding, business function, or foreign holiday with her Sugar Daddy. There's no monthly allowance paid in these cases.
It's also important to mention that a Sugar Daddy doesn't need to keep using a website once he's found his perfect sugar baby.
One of the main advantages for men using this type of dating site is that there are always 5x – 10x more female than male members. This is the exact opposite to what you find on traditional dating sites, where there are dozens of single men to every single woman.
Why Are There So Many Sugar Babies
There are a few reasons for this. The first is that there are hundreds of thousands of women using dating sites who are sick and tired of being jerked around by the same group of losers.
Lots of young men in the West expect that sex is a fringe benefit of a regular dating relationship and so the concept of romance has really slipped. A lot of these guys want to be nothing more than friends with benefits.
Well, for a lot of young women if they are just going to be friends with benefits they figure, "Well, why not get some real benefits?" So, a lot of young women become sugar babies to trade up from pizza and beer to caviar and champagne. It makes a lot of sense from their perspective.
By becoming a sugar baby a woman can at least ensure she's not going to have her bank account emptied by some smooth-talking dude with several baby mammas and no job. In fact, she'll be paid for her time with a sugar daddy whether it works out or not. No harm, no foul.
You also need to factor in the huge number of young women who are now attending college, who then graduate with a mountain of student loans to pay off.
All through their education, these bright, attractive young women struggle to get by, usually relying on minimum wage jobs.
They also endure the typical college relationship, which usually ends up going nowhere over the long term. Far too many women have spent several years in dead-end relationships that leave them with nothing more than broken hearts and a stack of unpaid bills.
Eventually, a handful of young women realized they were constantly being disappointed, or cheated on, by their college boyfriends. They decided to find a way to benefit from dating guys, for a change.
They always had the option of working in a strip club or doing cam shows, for the more adventurous, but that was still putting in a lot of effort for not a lot of money.
Stripping or doing cams shows also added the risk of being seen doing this by a college friend, or worse, a family member.
Their prayers were answered once the first sugar daddy dating site went online. Now, for once they could get paid for a date whether it went well or not.
They now had the chance to be paid a monthly allowance, removing any of their financial concerns.
All they had to do in return is to provide companionship for a wealthy guy who simply doesn't want the headache of a normal relationship.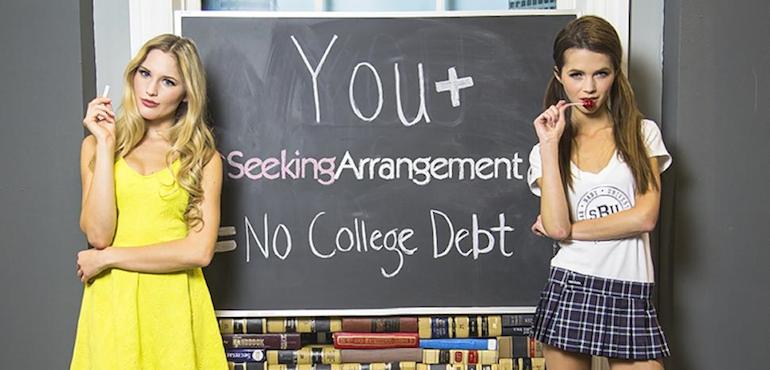 People often assume sex is always part of any arrangement made with a sugar daddy, but that's not always the case.
There are plenty of sugar babies out there enjoying paid-for apartments and cars, gifts and international travel, and all without any type of sexual relationship with their wealthy sugar date.
Some of the guys who use these dating sites are stuck in boring marriages, but won't want to cheat on their wives, for a number of reasons.
Instead, they want to feel the thrill of being around a pretty young woman again, and enjoy being seen in public with a woman who wears something other than sweatpants.
In fact, sugar dating might even boost a man's ego enough for him to get back to working on his relationship with his wife.
There's also the fact that sugar daddies aren't always older men, although there are plenty of wealthy guys in their 60s, 70s and 80s looking to meet women several decades younger than them.
There are, however, a growing number of sugar daddies who are in their early 30s. These wealthy young guys are more than willing to come to some form of financial arrangement with the right woman.
Why wouldn't they just try to meet women in bars and clubs? Because they don't have the time to waste on that, or on being disappointed with the results they get.
Wealthy men tend to be very busy maintaining and growing their wealth, so they need the best possible results for the least amount of time invested. That might sound very clinical, but it's how things work in the real world.
Sugar babies also know that if they meet the right guy, under the right circumstances, that they could quite easily wind up in a monogamous relationship with their millionaire boyfriend.
Their time being a sugar baby could be extremely limited if they play their cards right. And all without having to spend months or years dating dozens of deadbeat boyfriends. Instead, they get to meet their Prince Charming and probably live happily ever after.
How Much Does It Cost To Be A Sugar Daddy?
What qualifies you to be a sugar daddy will vary from one site to the next, and from one woman to the next.
For example, one of these dating sites requires you to have an income of at least $100,000 per year, but you don't need to verify your income. Asking how much you earn without asking for actual proof seems like a pointless requirement.
Most of the other sugar daddy sites will ask you to verify your income, but don't always state the minimum income entry level for you to be classed as wealthy.
The costs involved are also sometimes reflected in the membership fees for some of the higher-end dating sites. Most of the generic sugar dating sites ask for a monthly subscription fee of around $20.
You can see how this affects the caliber of their male members because even the most financially-strapped guy can afford $20 per month.
What they can't afford is to pay any more than maybe $50 for a date, which is acceptable to some sugar babies, especially those using sites like WhatsYourPrice.com. It all depends on what both people are looking for.
But when you look at the sites that have billionaires in their databases, they have subscription fees which can be in excess of $1,000 per month. After all, what millionaire worries about paying 4-figures to find the sugar baby of his dreams?
You then need to take the female perspective into account because they're going to care about how much you earn more than you do.
For example, the average male in the United States, with an honors degree or Ph.D., earns between $70,000 and $100,000 per year.
Most of these guys will have a reasonably high level of disposable income each month, but maybe not enough to pay out a monthly allowance of a few thousand dollars for their sugar baby.
Most sugar babies are looking for millionaires, simply because they know these guys can afford to keep them, almost no matter what happens.
So, based on those variables you realistically need to be earning well in excess of $100,000 per year to be classed as being wealthy. Anything less than that will put you on the lower rungs of the sugar daddy ladder.
The allowances most frequently asked for by sugar babies are anywhere from $1,000 to $3,000 per month in cash, but you might also be expected to pay their phone bills and take them shopping.
Best Sugar Daddy Sites
A genuine sugar relationship fulfills the needs of everyone involved. Men get to meet beautiful women who are happy to spend time with them, and women get to date men who have the financial resources to help them live their lives in an enjoyable way.
The sugar daddy dating scene is often painted with a tawdry brush that alludes to it being nothing more than a shortcut to prostitution, but that's ignoring the fact that there are now more sugar babies than ever using these sites.
In fact, the number of young women using this type of dating has grown from just over 10,000 in 2007 to more than 200,000 in 2017 – and that data is from just one of the bigger sugar daddy sites.
The problem now is not in finding a website that offers this type of introduction but instead finding a sugar daddy dating platform that can actually deliver on its promise.
Things have gotten so crowded in this corner of the online dating world that there are even free sugar daddy sites, which makes absolutely no sense considering the type of people these sites are meant to appeal to.
Free membership for women makes perfect sense, but what millionaire needs or wants free membership to anything?
We could let you trudge across the vast swamp of dating sites to find one that actually does what it says on the tin, but we decided to be more helpful instead.
Seeking Arrangement
This is one of the better-known sugar daddy websites, so it has been copied thousands of times. SeekingArrangement.com is the brainchild of Brandon Wade, often considered the digital godfather of this type of dating.
Wade originally created the site to cater to wealthy but socially awkward geeks, much like himself, but it grew far past his own expectations. Since its inception in 2006, this site has grown to five million members, with at least five women to each man.
You need to verify your income to become a full member of the site, something you won't find on many of the other sugar daddy websites.
Income verification might seem a bit invasive, but if you're a genuinely wealthy person looking to make a financial arrangement with a younger woman why would you care?
This site is also a little different from others in that it supports gay dating in the sugar daddy sphere, and there are also a number of "sugar mamas" looking for younger men.
Every message you send or receive on the site is encrypted to protect you in the case of any type of security breach – you'll never need to worry about your personal details finding their way into the public domain.
SeekingArrangement.com also have their own app, so you can stay connected to your sugar baby no matter where you are in the world.
A basic subscription for men costs $69 per month, but you can upgrade to the 'Diamond' membership package for about $2,400 per year. Interestingly enough this site will offer a free membership to any woman joining using an .edu email address.
There's been a huge growth in the number of female college students using this type of dating website, so SeekingArrangemnt.com are doing their best to attract them as members before anyone else does.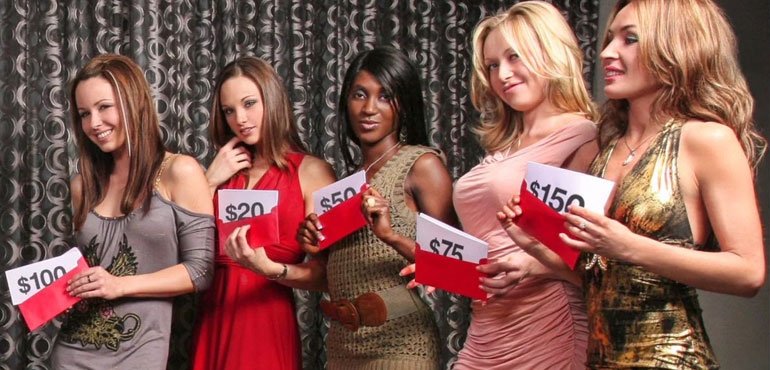 What's Your Price
Not being one to simply enjoy his success, in 2010 Brandon Wade set about creating another type of sugar daddy dating site, but this time with a small twist: Female members can put a price on the value of their date.
So, instead of waiting for some wealthy guy to happen across their profile you simply put yourself out there asking for what you think your time is worth.
You have two choices when creating your online profile: Generous or Attractive, and we'll let you figure out which gender dominates each category.
After that, it's a case of a 'Wink', a message, and perhaps a counter offer. Once both parties are happy with their deal they then arrange their date.
Now, it's important to stress that absolutely no financial transactions take place on the site itself because that would be illegal.
They also have very strict rules in places to deal with any female member who asks for cash through their membership profile.
Instead, men can purchase credit packages which allow them to contact women for a certain number of credits.
The number of credits required is based on the overall value of the date i.e. you'll use more credits to contact a woman asking for a $2000 date than with a woman asking for a $200 date.
On average most women expect to be paid between $350 and $500 for a single date, but the man doesn't need to pay for more than their first date. If both adults decide on an ongoing financial agreement after that, then that's entirely up to them.
Attractive women can register on this site free of charge, but men will need to pay for a basic 30-day membership, with prices starting at $30.
WhatsYourPrice.com also offers its user's data encryption as a standard feature, so they do take your privacy very seriously.
Check out the full, no holds barred What's Your Price review.
SugarDaddie.com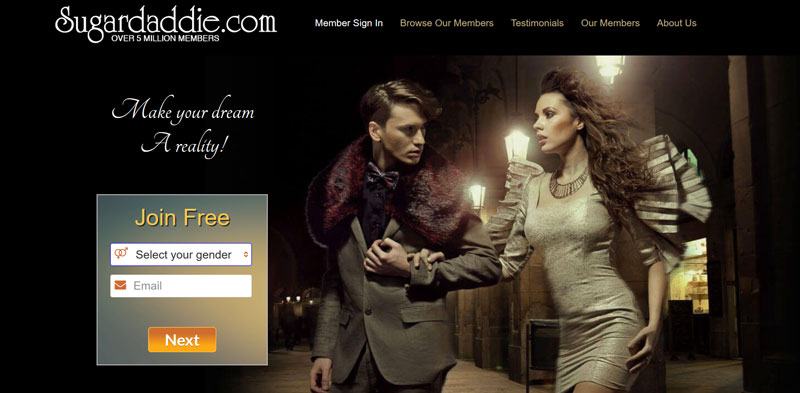 Say hello to SugarDaddie.com – the grandfather of all sugar daddy websites, bar none. This site first went online in 2002, which in Internet terms is the equivalent of 150 years ago.
This was a brave move considering that most people using the Internet back then wouldn't even consider using online dating, never mind the perceived shame of being involved with any type of sugar daddy arrangement.
But times have changed; sugar daddy dating is becoming more acceptable, especially after the global economic meltdown of 2008, which left millions of women struggling to pay their mortgages and feed their children.
There are a couple of things you need to know about being a member of SugarDaddie.com, such as you need to earn at least US$100,000 per year to be considered for full membership, and you must also live in one of the following countries: United States, Canada, United Kingdom, or Australia.
The team behind the site is looking to expand their international reach, and they'll need to do just that if they want to stay competitive.
Women reading this should be aware that there's a trend on this site away from wealthy men paying ongoing monthly allowances to their sugar babies, preferring a type of freelance girlfriend instead.
Membership costs $21.99 per month, with discounts available if you subscribe for several months at once.
This pricing also makes SugarDaddie.com one of the most affordable millionaire dating websites out there, and another perk is the lack of automatic billing.
The Takeaway
The morals and ethics of paying for sex have changed in many areas of the world and sugar daddy dating sites are simply mirroring those changes. They are not prostitution sites, but the connection between sex and money is pretty clear.
Here at WWCY we are not huge fans of sugar daddy dating sites, because in the long run, they do not appear to be great places to start true relationships. Are they fun? Yes. Are they exciting? Absolutely!
They are great places for hookups and if that is ALL you are interested in maybe you should check them out. But it is also worth mentioning that hooking up does not have all of the benefits for men that marriage does.
We decided to examine sugar daddy dating to really highlight how different the goals and methods of both the men and women are from couples that meet on mail order bride sites. Yes, some of the motivations are similar.
Generally, the man who signs up for a mail-order bride site will meet women who lack his measure of financial resources and often dating and sex develops among couples on the sites, BUT ultimately the couples are looking to build lifelong relationships on the mail order bride sites we review. That is a big difference.
So, if you are a guy that really likes the concept of romance then take a look at one of our international dating sites, like A Foreign Affair.
Sugar daddy dating is something different, but in its own way, it is a truly honest way to date. If you decide to go that route you need to be honest about yourself.
Most sugar babies are willing to admit that their ideal man is tall, dark, handsome, and has an income of at least US$200k per year.
So, maybe you are not all that tall, and not as handsome as you once were, but if you have the money and want to meet beautiful younger women who will at least consider going to bed with you then maybe sugar daddy dating is the right choice for you.