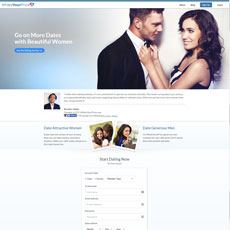 Website: Whatsyourprice.com
The sugar daddy dating industry is in about the same position as the mail order bride industry was twenty-five years ago.   Some people think it should be illegal.
Others think it is incredible and some people claim it is not groundbreaking, but that all sugar daddy dating is doing is following the changing sexual mores of the twenty-first century.
One thing is for sure, Sugar daddy dating is reimagining modern online dating.  And no company has been more imaginative than What's Your Price.
What Makes What's Your Price Different?
They say "money can't buy you love", but are you sure about that? Brandon Wade, owner of WhatsYourPrice.com, has challenged the status quo of online dating by creating the first online dating auction site.
The site has been online since 2010, and allows you to find your perfect date without any of the usual hard work of trawling through hundreds of profiles to find a woman you're interested in dating.
The problem with most online dating sites is that the reasonably good looking women are few.  This is a huge problem for big domestic dating sites like Match.com and Chemisty.com.
On those sites, the stunners are snapped up early, so in the end you're left wading through the profiles of overweight, angry single feminists who get a kick out of turning down guys who would be way out of their league in the real world.
Of course, if you want true stunners you could sign up at Anastasia, but perhaps you simply do not want to learn a foreign language or maybe your parole officer doesn't like you leaving the country.  Whatever, sugar daddy sites provide an interesting alternative and none are quite as interesting as What's Your Price.
How What's Your Price Works
WhatsYourPrice.com doesn't try to reinvent the wheel of online dating. Instead it sticks to the basics of asking you to create a profile, add some information about yourself and what you're looking for, and then upload a picture to activate your profile. This is the point where this website takes a different path to pretty much any other dating site you've ever been on.
You see, when you create your profile you get to choose from two basic categories: Generous or Attractive. In most cases 'Generous' = male, and 'Attractive' = female, but that shouldn't come as any surprise due to the very nature of this site.  One of the nicest things about What's Your Price is that it lays bare the economics underlying dating.
WhatsYourPrice.com is based on a very simple premise of women deciding how much a date with them is worth, and men looking to date women who are happy to be financially compensated to provide companionship for the evening. Sure, some guys are going to treat the site like some type of legalized "personal escort" service, but they're filtered out pretty quickly, as are any prostitutes who create profiles on the site.
After creating and verifying your profile you can then view the automatic matches presented to you, or you can do a manual search. If you find a lady you think you'd like to bring out on a date you can send her a 'Wink', and if the gesture is returned then you can either accept the amount she wants to be paid for her date, or you can make her a counter offer. She can also counter your counter offer, by the way, but most members handle the entire process like the adults they are.
WhatsYourPrice.com allows attractive women to have free membership. This will probably have feminists up in arms, screaming that beauty is in the eye of the beholder, but if this site can help you filter out all the no-hopers in your dating future then they're doing you a favor. Honestly, what guy goes online to put up with constant rejection from women he probably wouldn't give the time of day in real life?
The Members
Most people assume that sites like WhatsYourPrice.com are overflowing with sleazy old dudes looking to date naive young women who are being exploited. This is a pretty gender-biased opinion, and is nothing more than idle speculation.
The men looking for dates range in age from their late 20s to their early 50s. All male members have to pass a criminal background check to ensure that women using the site can enjoy a safe and enjoyable online dating experience.
What irritates the hell out of the feminist mob is that the hundreds of thousands of women using this site are mostly of college-going age. They are young, bright, fit, educated and realize that for the first time in their lives they can be financially compensated when a date doesn't work out.
There's no getting dumped by text or social media – they have complete control over the entire experience. So, there are no naive victims here, just a whole bunch of tech savvy young women who are paying off their student loans before they leave college.
The Design
The site design is clean, with just the bare minimum of features provided. The visionary behind WhatsYourPrice.com, Brandon Wade, understood that busy people simply need a site where they can find an attractive woman, negotiate what she finds acceptable, and then gets back off the site.
There's no need for quizzes, puzzles, or any of the clutter you'll find on other dating platforms – all of that stuff just gets in the way.
WhatsYourPrice doesn't expect you to be wandering around their site for hours on end. In fact, if you are then there's something not quite right with your dating experience.
Security
You don't need us to tell you how critical it is to protect your personal information, but WhatsYourPrice has data encryption as a standard feature of your membership.
Even if somebody was able to steal data from the site it would be absolute useless to them unless they know how to decrypt it.
The site also doesn't use any form of bots to fake user interaction, and they come down heavily on anyone setting up fake profiles.
Every online dating platform is prone to abuse, but the team behind WhatsYourPrice.com do everything they can to ensure you have a positive experience with them.
Pricing
Attractive women get a free profile on the site, which then allows them to offer dates up to a value of $200. There's also a premium membership option for women, starting at $30 for one month of membership.
No money is transferred via the site, so instead it operates on a system of credit packages that you buy.
If the dating offer is less than $50 in value then that only costs 10 credits to unlock. The other side of that coin is that dating offers over a value of $200 can cost a lot more in credits.
It's also important we mention that you don't need to pay the same amount for each date. The beauty of the site is that men get an opportunity to get their metaphorical foot in the door with women who might not welcome their advances in a bar or club.
If their first date is successful it's then up to the man and woman to decide where to take their next date, or not, for that matter.
Summary
People might not like the concept behind the site, but the reality is that this is a more honest way to date. Why? Because when women are surveyed they say that their ideal man has the following qualities:
Dark hair
Over 6-feet tall
Earns over $200,000 per year
So, personal finances are definitely a factor in what types of men certain women will date, and the reason for their attraction in the first place.
Over 200,000 successful dates have been completed via WhatsYourPrice.com, so that's no coincidence or accident and if you want to date super hot women, but aren't ready or willing to book a flight to Ukraine it is a great option.
Just remember that WhatsYourPrice can help you find the date of your dreams, but it won't fix any personality issues you have. Being a nice guy is important too.